REVIEW AND INTERVIEW BY GUITAR INTERNATIONAL :
Claude Bourbon: Medieval And Spanish Blues
(Claude Bourbon)
Louise Rodgers
| Published on Wednesday 21 August 2019
Bourbon had a smoky, interesting voice with more than a hint of JJ Cale, and his delivery had a pleasing take-it-or-leave-it quality. It's not that he wasn't pleased to see his attentive audience but most of them were there for the guitar! Part of Bourbon's signature sound was to loop the end of phrases softly, echoing them over the next few bars of music but you can have too much of a good thing; it happened in every piece and without variation. He improvised on various musical styles and quoted directly from pieces including 'Fleur De Lis', 'Ne Me Quitte Pas', 'Rodriguez Guitar Concerto' and 'Shine On You Crazy Diamond', which injected the unexpected into this pleasantly individual hour of blues.
Acoustic Music Centre @ UCC, run ended.
tw rating 3/5 | [Louise Rodgers]
REVIEW CONCERT AT THE GINGER PIG, WORCESTER 28TH OF JANUARY 2017 :
Claude Bourbon Chapel Sessions, Royal Victoria Country Park, Netley.
Billed as a pre Valentine's blues infused, evening of guitar and song, well-travelled on both sides of the Atlantic, UK based Swiss French singer songwriter Claude Bourbon weaved his songs through the audience as if on a journey through life taking in different flavours of Europe and beyond. His Spanish medieval blues evolved into Gypsy, Eastern European, with a splash of Paco de Lucia, Delta Blues and more. Holding audience attention under a musical spell, the stunningly lit Victorian Chapel venue, Royal Victoria Country Park, proved the perfect setting for the man and his Gibson. A simply stunning rendition of Gershwin's 'Summertime' had those Valentine partners dancing with a rapturous audience applause for this timeless classic.
Claude Bourbon at The Fleece, Bretforton 30/11
Claude Bourbon is an enigma, he is a classically trained musician, who fuses every conceivable genre of acoustic guitar music into a master-class of a stage performance. There are Latin, Spanish, Gypsy, Jazz and Delta Blues influences throughout, and often within one seamless stream of perfection. If I had to be critical of any weakness, to an admittedly untrained ear, it is in his vocals, not the fact that they have a distinct Gallic touch, but more that Claude's soulful voice cannot hope to match his dexterity on his well travelled Gibson acoustic guitar.
He started with a long, distinctly Spanish sound of water babbling over a rocky shallow bed, before opening to lush rolling hills, yes you can hear all this, even me! Somewhere along the way it slipped into 'If You Go Away', from Flemish writer Jaques Brel and lyricist Rod McKuen, an appropriately cross channel success.
Next, a nice bit of blues, 'Did Somebody Make A Fool Of You', probably many times, but not this evening, it was a good call! Also rather fitting, given the extensive, European and US tour, that is finally nearing its end after 170 gigs, another exceptional song from his repertoire, 'The Road Is Long', just a little further, back home to Portsmouth. A softly sung, but dark folk song in 'Twelve Red Roses' talks of a return to a lost love, and perhaps lost soul. Back to the blues with a aptly named 'How to Stretch It', and for sure, it was stretched and played wonderfully, Claude's right thumb, plucking out a solid base line on the heavy top string, as his fingers sought out the intricate train of notes below, superb and I would have been happy for it to have carried on beyond this marathon stretch. I did not check my watch, its not the first thing you consider! But, I know by past reports, it can be 15 minutes long, and that's not 'stretching' imagination, no part of the guitar is ignored, even flexing the body to bend those notes. JJ Cale was slipped in with 'A Drifters Life', before Claude needed to ease his fingers and take a short break.
What came next I find hard to describe, an almost endless amalgam of different influences, melting into each other as we moved from classical openings, across a whole continent of cultural roots, from the Balearic's to the Balkans, and then across to the Mississippi Delta, and shoehorned into all that was music that would not have been amiss in the courts of emperors and kings.In all of that, I must give mention to a beautiful rendition of Gershwin's 'Summertime', there are of course, many interpretations out there, but this is up with there with the best. Its not easy to begin to describe the breadth or mastery of the music you will hear if fortunate to catch one of Claude's gigs, he sort of finished 'Sitting On A Cliff', but of course its not that simple, its a sort of sensory experience, those of you who have seen him will know. Do look out for a return, you will be richer for the experience.
Words & Photos Graham Munn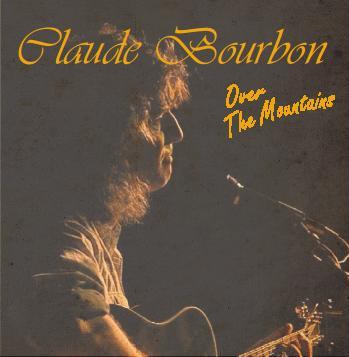 It rarely happens that an opening act on a festival blows us away. Nevertheless, Claude Bourbon succeeded magnificently on Elouges en Blues. His finely strung mix of folk and classical with a dab of acoustic blues found its way to a fine double album, that can be bought for peanuts on the man's website.

Although this isn't the French Switzer's first album by a far, 'Over the Mountains' is a nice overview of Bourbon's work. The first cd contains beautiful songs, of which Tim Leaning wrote the bigger part; Craig Ward also provided a song, and Bourbon provided his typical guitar sound and soft, recogniseable voice. Fans of Bob Dylan will no doubt be able to appreciate Bourbons sound.

The lyrics rarely prevail over the music - not in the mix, not as far as content is concerned. The atmosphere prevails. Perfect for an evening's reading in leather-bound volumes whilst smoking a pipe. Bourbon takes us back to a generation of folk guitarists that has so unrightfully been forced to the second plan. We hear echoes of Richard Thompson, Mississippi John Hurt and even Nick Drake. All right, you probably still know them, but how long has it been since you've heard them on the radio?

The vocals on the album's title track is gorgeous, natural, not too smooth. Le Dernier Train and I'm Drifting are set in a nice blues atmospheren, and in I Borrowed a Smile two guitars bring out the best in each other. The first album is very coherent, although that also means that, if you don't listen carefully, it might seem like one long song. Luckily, this is an invitation to listen carefully once more.

The second cd is called 'Over The Sea', and it contains no less than twenty interpretations of classical works. Some of them only take one minute, bringing this cd to about three quarters of an hour. Mozarts Rondo Alla Turca receives a fun guitar treatment, although there are other guitarists to be found who have burned their fingers on it. Bourbons version of Ravel's Bolero on the other hand is much more than a curiosity, and his interpretation of Bach's first cello suite (under the title Souviens-Toi) is worth listening to over and over again.

The presence of many a well-known piece and sound makes the second album seem more varied than the first. Bourbon's style isn't all that technical or classical, and that adds to the enjoyment. These aren't only seemingly careless technical high points, there's a lot of feeling as well. That's also true, in part, for the first cd. There, we'd have liked some more focus on strong songs and their textual and Bourbon's vocal qualities. And if we really have to be critical, the album cover isn't always very readable. But if that's our only criticism, then you know we whole-heartedly recommend this album.
Stefaan Van Slycken, daMusic Magazine - May 2012 (Dutch review online here : DaMusic Magazine)

Claude Bourbon: Friday 3rd February 2012
Report by Harry Bolter - Hove Folk club
Earlier in the week I had been watching tennis. Novak Djokovic had played Andy Murray in Australia, the match was long and the shot-making, defence and serving of a high calibre. So what is the connection to Hove's February guest, Claude Bourbon from France? Well, both Djokovic and Claude are top masters of their craft and never appear rushed, they both have impeccable timing and make things that you and I can only marvel at seem simple.
Claude took to the floor, clutched his Gibson guitar in both arms, and played a long freely-improvised version of "Summertime". There were elements of classic playing mixed in with blues and jazz - so many notes and sounds that I wondered if he had a CD player in the guitar, as his fingers moved slowly and confidently up and down the guitar with seeming slow ease.
Claude played some of his own compositions written in collaboration with Tim from Grimsby, "Travelling Man" and "Sitting on a Cliff" being two that stood out for me.
At the end of the evening we reflected on some of the tunes we had heard, and a piece of the improvisation would register as "Bolero" or "Angie" by the Rolling Stones. There were also differences in how we saw his playing. One person described it as "muscular", another as "percussion like" - this drawn from the fact that often Claude would pull on a piece of the guitar in order to pronounce a note or sound.
Whatever the impression, it certainly will not be forgotten: a real virtuoso, and listened to by the audience in rapture.
Claude Bourbon • WE'LL MEET AGAIN • Frog Records •
This French-born guitarist grew up in Switzerland where for a time he was classically trained, but he soon felt the need to explore the guitar without the limitations of written music and delved headlong into folk, blues, jazz and rock music. Now based in the UK, he has become a world-renowned player, highly acclaimed for his finger-picking style—plucking, picking and strumming at such speed that his fingers seem to appear just as a blur. This latest album utilises strains of folk, western, jazz and blues through such melodic delights as the traditional English Dance, the hypnotic Rodrigo and a gorgeous version of the Rolling Stones' Angie. Claude also adds vocals to some tracks such as Rhyme or Reason and The End of the World displaying a slightly gruff, world-weary voice.
www.claudebourbon.org
Maverick Magazine / February 2011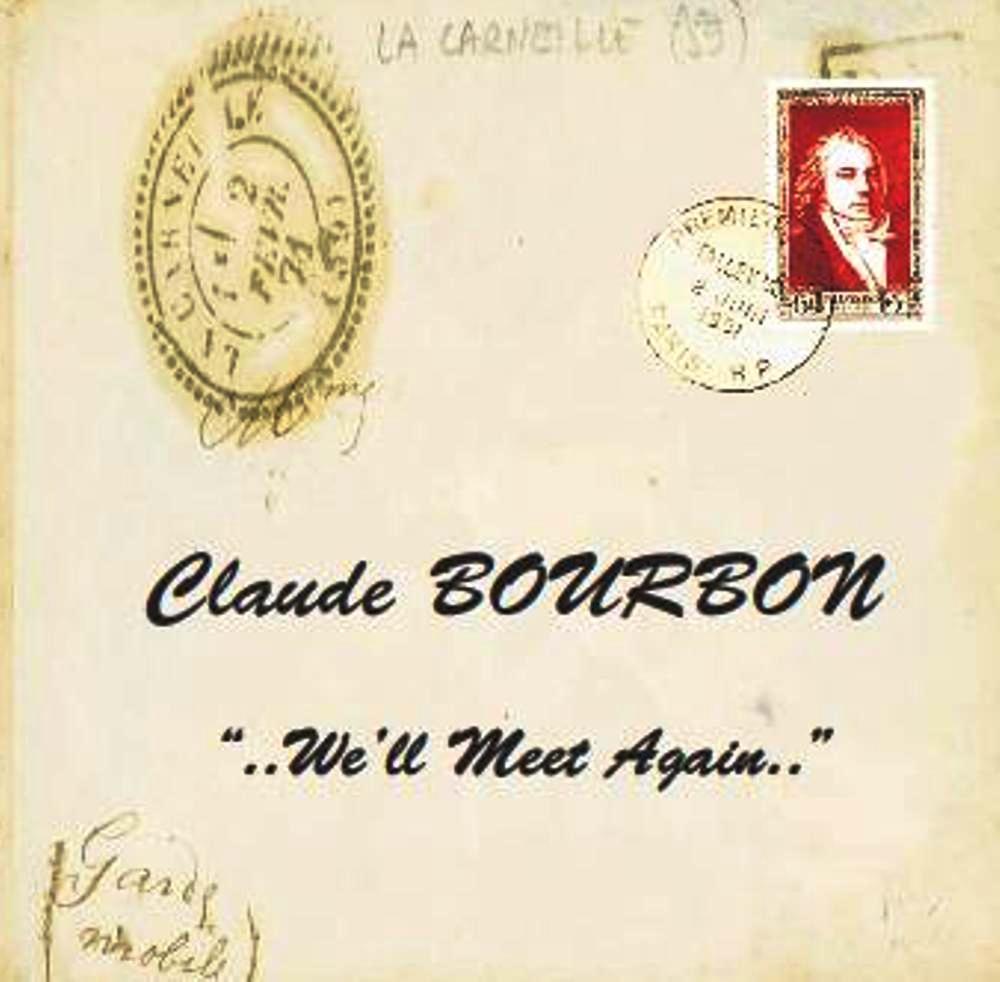 REVIEW OF CLAUDE'S CONCERT AT SHAKEDOWN BLUES, SEPTEMBER 2010

Review with Track from concert "There Is Somebody Missing Tonight" at http://www.shakedownblues.co.uk/previous.php

Claude Bourbon

THURSDAY 16th September 2010
St. Kyneburgha Church, Castor, Peterborough
The promotion notes indicated that we were in for an eclectic evening of acoustic guitar playing. In the event most have us had never seen or heard anything quite like it.
Claude's playing is firmly rooted in classical Spanish guitar and no doubt he could have entertained us with a full repertoire, within this genre, and we would all have gone home happy. What he does though is add elements from a vast array of influences, east and west, ancient and modern.
His fingerpicking is exquisite and if I closed my eyes I could clearly hear two guitars playing. Just when I recongnised a theme he moved on
with a mesmerising cascade of notes which kept on flowing. He added a driving bass, for a version of "She knows how to stretch it". By the time he sang the first verse he had 'stretched it' from Spain to the Caucuses, and from the concert hall to the bar room. His forte is obviously his wonderful guitar work, but he does occasionally burst into song and what you then get is something between Bob Dylan and Cat Stevens, combined with a French accent! C'est magnifique.
For the technically minded he played a steel strung Gibson acoustic and used no effects - well unless you count behind the nut bends, harmonics, and retuning a string in the middle of a song - without missing a beat! He does play in standard tuning, but there were numerous alternatives as well as slide playing. There's many a country blues player who would kill for a right thumb like Claude's. The natural acoustics of the beautiful St Kyneburgha church seemed made for him.
This wasn't the blues but it was a very enjoyable evening. Thank you Shakedown
Dave Bailey
The Wombwell Wheelhouse once again drew a packed audience tonight for the first appearance at the venue by French-born guitarist Claude Bourbon. The classically trained guitarist grew up in Canton de Vaud, Switzerland, where he developed a distinctly multi-styled approach to finger-picked guitar, encompassing everything from classical and Spanish flamenco influences to jazz, blues and folk, with a little Eastern influence thrown in for good measure. Tonight the guitarist gave us a taste of these elements in a couple of sets of delicate songs and outstanding guitar tunes, fusing all the styles in a sort of improvisational recital. One or two of the pieces were extended to include several short guitar pieces that segued into one another, not unlike a classical recital, but with the inclusion of several jazz and blues runs, at times utilising the bottleneck.
Bourbon first picked up a guitar when he was fifteen after hearing an instrumental version of the traditional House of the Rising Sun, apparently coming from a neighbours garage, which not only gave him the inspiration to pick up the guitar, but also to seek out new kinds of music such as the Spanish flamenco style of guitarists like Paco De Lucia, the more rock orientated Jimmy Page (Led Zeppelin) and Richie Blackmore (Deep Purple) and the ragtime blues playing of Blind Blake as well as the works of various classical composers such as Joaquin Rodrigo and JS Bach.
Opening his set with a sixteen-minute medley of guitar tunes in various styles such as baroque, some Ry Cooder-esque bottleneck and some European Klesmer music, each with alternating tempos, Claude topped it off with his rendition of Gershwin's Summertime, all played with great dexterity and flair. The self composed guitar instrumental Passing Through coupled with the title song from Claude's current album release Travelling Man, although released on his previous album MERCI, THANK YOU, showcased the versitilty of his dextrous playing.
Quite coincidentally, adding to the atmosphere at the Wheelhouse, during the silence that preceded Ghosts, an owl could be heard outside, wanting to get in on the action, which was quite spooky. If Claude's command over singing in English, which was very good I hasten to add, is comparatively less assured, singing in his native tongue is instantly more relaxing, which he demonstrated on C'est Dimanche, whilst whistling over a ragtime guitar tune.
The second set began with an even longer piece than the opener to the first set, again composed of several short passages, all fitting neatly together as if originally intended that way. After the show I asked Claude if I could peek at his set list to which he replied saying that he didn't use them, therefore many of the titles remain unknown to me. The twenty-six minute medley brought together classical pieces in the style of JS Bach, some of which I did recognise such as the excerpts from blind Spanish composer Joaquin Rodrigo's famous Concierto de Aranjuez (Orange Juice to Brassed Off fans) together with a foot stomping version of the old gospel classic You Don't Know What the Lord Told Me, with some improvisational guitar motifs expertly worked into the piece.
Towards the end of the night, a much more relaxed Claude performed a handful of songs including There's Somebody Missing Tonight from Claude's forthcoming album and the Spanish influenced Sitting on a Cliff, co-written by songwriting partner Tim Leaning. Other songs included When Love Has Quit the Scene and the funky Angel.
With an extraordinary meeting between something typically French and something fundementally English, Claude Bourbon completed an evening of quality musicianship with Bolero, reminding some of Torvil and Dean and others of Dudley Moore's hanky-pankying with Bo Derek in '10', which segued into the unexpected We'll Meet Again, inspiring some cross channel communal singing from the entire house as Ravel met up with the forces' sweetheart Vera Lynn. Another top night in Wombwell.

Allan Wilkinson
Northern Sky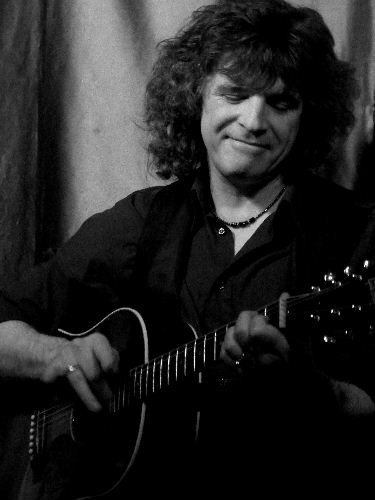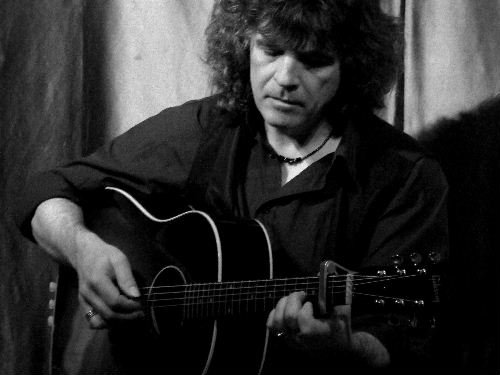 Claude Bourbon
The Travellin'Man
FROG

With a name like Claude Bourbon, your mind strays perhaps to Louisiana, but this packed double CD set was recorded in Southsea. CD1 is a showcase for Claude's guitar playing skills and, make no mistake, they are considerable.
Instrumentally, there's a variety of guitar styles here, from the opening "Medieval" and the Andalusia flavours of "Echo" yet track so "A light In The Night" immediately puts one in mind of Ry Cooder's "Paris, Texas". If this collection just included Bourbon's guitar playing, it would be well worth having for its mesmeric quality.
But on CD2 he accompanies himself singing nine songs, which perfectly match the rolling meditative mood of the first CD. It's all like a more nimble-fingered version of JJ Cale, so it's no surprise to discover a Cale song included "Sensitive Kind". So here we have another fine example of the prodigious talent which is treading the boards in UK clubs. That said, if you see his name flagged up in your area, go along – based on this set you could be in for a very entertaining night.
Roy Bainton
Blues Matters – UK
March 2009
TUNES

Influences / References : Blind Blake, Nick Drake, John Renbourn, Van Morison
Description : Blues Finger-Picker with an tinge of the darker depths
Similar acts of today : Leo Kottke


Haunting blues: What secrets lurk beneath?
BY MARK GRABOWSKI
Blues fingerpicker and vocalist Claude Bourbon appears to be a man without a past. His own management company writes, "Who cares?" when asked (by themselves, in a press release no less) about the performer's pedigree.
Perhaps there's something lurking deep within the mists of time that Bourbon is hiding, a "…Tell-Tale Heart" of fantastic proportions. Perhaps he was a member of a
mutinied crew who stranded their captain on a Pacific atoll. Perhaps he was the frontman for a long-forgotten '80s glam metal band lost in a sea of makeup and spandex. Perhaps it is something even darker.
We don't know, but there are hints of whatever it is in his music, which projects a sense of deep sorrow and isolation such as I've never heard in the blues before.
A few facts slip out as you troll for nuggets along the information superhighway. Bourbon is French-born ('The Frog with the Blues" is his tag line) and now resides in Portsmouth, U.K. His latest album, The Fifth, released December 12, is indeed his fifth LP. But other than useless items like "plays over 100 shows each year," the details of his life seem to have been rendered inconsequential by the power of his performances.
The Fifth is 18 tracks in length, including 10 originals and the rest composed of covers of extremely varied origination. In a drifting version of Gershwin's "Summertime," Bourbon's gravelly accented voice floats over his sauntering acoustic guitar notes at a pace that would probably make your skin crawl in a horror movie if it weren't so beautiful. Vocally, shades of '60s folk casualty Nick Drake can be heard, but Bourbon takes his mournful pipes along avenues quite distinct from those of that singer/songwriter, eschewing folk trends for the deep Mississippi blues.
"Travelling Man" is a fine example of Bourbon's trademark rambling style. Its story of a wandering minstrel is perfectly presented to reach the fullest possible effect-- a walking beat, haunting vocals, and some utterly brilliant Hemingway-simple lyrics seem to make the tale come alive as you listen, entranced, to the melody.
"You Don't Know" finally reveals Bourbon's guitar virtuosity, with a Spanish intro before it shifts gears into the lackadaisical (and yet again, haunting) story of a conversation with the Lord.
Claude Bourbon is a unique figure today-- with his influences deeply buried beneath the surface, what sallies forth from his playing is almost indescribable. The only way you can clear up the mystery is by going to hear him for yourself.
Claude Bourbon
"Merci - Thank You"
Frog Records
This cd, recorded in Brussels in 2005, is a showcase of fingerpicking, noodling and to a lesser degree, vocalizing from France's Claude Bourbon. The blues is a big part of Bourbon's repertoire, but that's not all he does. Ravel's "Bolero" gets a ten minute-plus workout, and during the tune "How To Stretch It" he not only quotes the Muddy Waters standard "Baby Please Don't Go"; Bach's "Bouree" finds its way into the mix as well.
This is solo acoustic guitar that is dazzling. Acoustic calisthenics might be a better word for some of the fretwork done here, which at times sound like the pyrotechnics of Monte Montgomery. Bourbon may also remind the listener of Leo Kottke and Jorma Kaukonen. Rarefied air, indeed. With guitar like this one might wonder why vocals would be needed, but Bourbon has a pleasant baritone that gets his message across.
Listen to "Merci-Thank You" and immerse yourself in beautiful music. A must for guitar players.
Willie Painter
Durham, NC , USA - 2005
Hungerford festival 2004 two hours on Friday evening.
He began with an earthy coutry blues that sounded like a cross between Big Bill Broonzy and The Rolling Stones, but that statement is meant in the most positive sense because nobody on the British rock scene has been closer to genuine blues expression than Mick Jagger's crew.

Bourbon added touches of flamenco, coutry and hillibilly music to his exhaustive recital. His sources all congealing together merrily in an explosion of blues-fuelled guitar artistry.

Moving back towards his early classical training, he played Ravel's Bolero with an insistent two note bass line that was every bit as constant and monotonus as that irritating snare drum commentary that runs throughout the orchestral version. And surprisingly he managed to insert a few bars of Leadbelly's blues classic Pick a Ball of Cotton into the middle of his performance; a first time for that combination I suspcect. Bourbon's ballad artistry was also impressive on I See Your Face.

This was one of the few interns he announces with titles, reffering to several other, including the Ravel Bolero, as a "French song".

So a little more information on the material and, in some cases, its source, would have been welcome but as to the music, it was performed with flair, enthusiasm and a very great deal of technical expertise on the guitar.

After two hours of varied music, the audience would not let him go without playing an encore, and this he did, marking a well attended, much admired Hadcaf concert.
He modestly calls himself 'the frog with the happy blues', which endears him to you immediately, yet no one was really prepared for the incredible talent that this Frenchman has - at times it seemed there were three or four guitarists on the stage, not just one. His fingers became a blur as he produced medleys that incorporated what he terms 'medieval blues' (and that's exactly what it sounded like) and personal interpretations of classical, folk, jazz and footstompin' blues numbers. His musicianship is 'premier league' and leaves many better-known artists wanting.

But Claude can do sad as well as happy; he is also a master of the 'chanson triste' and songs like 'there's somebody missing tonight', 'ghost' and 'I see your face' (it's worth buying his album 'Stop breaking down' for this alone) mark him down as a great songwriter and lyricist.

The evening was truly memorable; the delivery sincere and effortless and he also has the best agent that we have worked with in two years of running the club. All in all, it's no surprise that he has a gig list as long as your arm for 2010.

Our advice – book him if you run a club, and go and see him somewhere else, if you missed him at ours.
Brighton Folk & Blues Club / February 2010"
Edinburgh Fringe Festival 2009 review
Claude Bourbon
There's a film you haven't seen. Laden with aggressive romance, heartache, betrayal and allusive sub-plots all spliced between shots of breathtaking landscapes. You haven't seen it because it doesn't exist. But Claude Bourbon has the score at his fingertips. He began by demonstrating technical brilliance through irregular rhythms gradually leading the listener into epic instrumental narratives at ten minutes apiece. Time enough for the initial fluctuations to give way to dashes of melodic Spanish strumming. Occasionally those scenes of impassioned emotions would suddenly vanish behind Bourbon's fairly average vocals flecked with an American country twang that turn the rich landscapes into lacklustre dirt roads. But always the masterful compositions would flood back to leave a lasting impression of intense talent.
published: Sep-2009
Rhys Pearce

Saturday saw me back at the Imp. Where international guitarist Claude Bourdon was playing. The reason I went in the first place is because the poster I'd seen said he was going to play Spanish Medieval Blues. I was intrigued to hear what this would sound like. I half hoped that he'd play actual Spanish Medieval Blues. Maybe The Don Quixote Blues or El Cid Boogie. But joking aside this turned out to be far from the case. Claude Bourbon instead played a set which displayed his remarkable playing style to the full. He did indeed blend Spanish guitar and Blues guitar together seamlessly. Full on Spanish guitar in the wrong hands can be a drag but here Bourbon switched back and forth between the styles using slide and finger picking to produce a sound both airy and haunting. His fingers floating over the strings. Then the song slipped into a version or Summertime (the living is easy) And for the first time the audience was introduced to his warm French accent mingled with the easy vocal style of Ry Cooder .
Best illustrated by the title track of his latest CD. 'Traveling Man' This song also saw Bourbon show his mastery of the nudges and taps which gave subtle sustain to his notes. Combining also percussive backing to the songs. But most remarkable for me was what he was doing during one of his song , an up tempo blues song to begin with. All thought which he played a constant bass line with his thumb while finger picking. A song which lasted maybe 15 minutes. I'm no guitarist but even I could tell that was something special.
Watching Bourbon is a master class for any would be guitarist . And for the layman a real experience of what can be done with an acoustic guitar in the right hands.
And I wish all guitarist could tune up as quickly and with the flare he did.
Claude Bourbon - "Merci, Thank You", Live in Brussels…
The newest cd of Claude bourbon, alias The Frog With The blues, is pure art! "Merci, Thank You" is a live album recorded in Brussels in May 2005. What can be heard is infinitely beautiful. Claude understands the art of playing incredibly accurate slide and fingerpicking guitar and his voice makes you shiver. Starting from the blues he takes you on a trip with songs which are sometimes inspired by Spanish bolero's or by the protest songs of singer/songwriter Bob Dylan or then again he takes you sailing into the world of classical music but always to return to the blues. Gershwin's 'Summertime' takes on new dimensions in about twelve minutes: from solemn over affectionate to melodramatically gripping. 'How To Stretch' is a sixteen minutes lasting masterpiece. It's a traditional but Claude has rewritten it with so much love that only one question remains: how this is possible? Also the bewildering 'Travelin' Man' (Bourbon/Hammond) and Ravel's Bolero are masterpieces of their kind. To my knowledge nobody has ever performed these songs this beautifully. The interludes between these gems allow you to get an idea of the public's reactions. I only have one thing to say to Claude: Merci, Thank You! For the aficionados: Claude will perform soon in Belgium. The official release of his cd will be on Saturday 29 October in the Centre Culturel Armillaire, Jette, Brussels.
Reviewed by: Bobtje, Belgium, August 2005

________________________________________________________________

"FINGER PICKING GOOD"
For many years The Triangle Tavern has developed a reputation for attracting outstanding musicians on a regular basis, but last Friday guitarist extraordinaire, Claude Bourbon, exceeded all expectations.
The attention of the onlookers was captured from the precise pluck of the first note as Claude launched his mesmerising master class, a dynamic demonstration of acoustic guitar work, the like of which I had never previously witnessed.
Claude begun his mostly self-penned set with a complex finger picking instrumental, leaving me thinking that he was one of those musicians that tries to impress with their best number first; but this for far from the reality. On his second track, Claude brought the element of slide guitar into the equation providing a further depth and dimension, both audibly and visually. Throughout the rest of his performance, the audience sat in awe from one exhilarating number to the next; vocal numbers interspersed with instrumentals.
Classically trained in Switzerland for many years, Claude has created an unbelievable fusion of classical and jazz with ethereal Eastern influences, with a soupcon of Eastern and Western folk.
His inimitable style incorporates all five digits on each hand dancing independently but in unison, plucking, picking and strumming at such speed and precision that his fingers often melted into a blur.
Responding to a requested encore of a repeat of his one and only slide sensation of the night, the audience were left spellbound, having witnessed a naturally superb musician who posses the X factor, the wow factor and has now invented the Bourbon factor.
Reviewed by : Gary Hilton